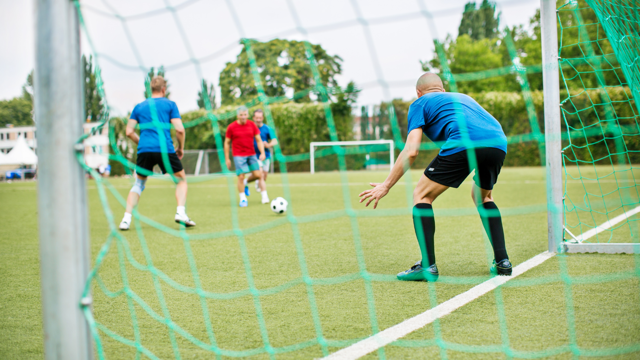 Sport is powerful. Just look at the energy, excitement and connection that the Olympics or the football World Cup brings. Across the country the benefits of sport are being seen at a grassroots level, through innovative social prescribing projects.
Social prescribing is the process of a social prescribing link worker or health professional referring people to activities in the community that support or improve their health and wellbeing. Social prescribing link workers give people time, focusing on 'what matters to me' and taking a holistic approach to people's health and wellbeing. 
For some people, what matters and works for them is football. Football cannot only improve physical health, but it also impacts mental wellbeing, provides access to outdoor spaces, and enables people to feel connected to others. 
In Yorkshire, Happier Healthier Heeley Plus are working with Sheffield United Community Foundation to run football sessions for different members of the community for physical, social and mental wellbeing benefits. As well as adults and children enjoying football fun, they want to show the benefits to social prescribing link workers of referring people to take part in a local session.  
Ruth Nutter, Creative Producer and Project Co-ordinator at Heeley Trust, said:
"Football is something everyone can join in with to feel better – the rising popularity of walking football means that more people can revisit or begin a love of sport in a way that works for them."
The You Trust are working in collaboration with Pompey in the Community(PitC), the charity of Portsmouth Football Club. PitC have developed a range of programmes and workshops that combine sport, physical activity, training and wellbeing to develop community cohesion. The charity uses the passion of football to engage with the most vulnerable members of our community. As part of the Thriving Coastal Communities project, they offer a ten-week walking football programme for men over 50 who have a love for the sport. 
Ellenor Gray, Community Services Manager at PitC, said:
"With less stress on the body and no real sudden change of direction or movements, the game allows the participants to play without apprehension. As well as offering health benefits, walking football offers social benefits – the opportunity for participants to meet new people, prevent isolation and create interaction for individuals and small groups."
It's not just football. Another project is Sunderland's Thriving Communities partnership, who are always looking at ways to push the boundaries when it comes to movement and sport. They know the physical and mental health benefits and have seen first-hand the improvements that physical activity can have on individual and community health.
Vicki Kennedy, Sunderland Social Prescribing Manager, said:
"We want to continually challenge the norms around ageing and disability and have been testing creative innovative physical activities for everyone. We've programmed silent discos for children with special educational needs and disabilities, dance for those at risk of trips and falls and last year even tried trapeze, laughter yoga and aerial workshops for the elderly! To see the pure joy on the faces of the participants is incredible. A very special moment was seeing Marion, 95, swinging freely from an aerial silk hammock and laughing while suspended in the air for the very first time."
It isn't all thrill-seeking activity though, Groundwork - one of the Sunderland social prescribing partners uses nature and the outdoors for mindful walks, teaching practical horticulture and landscape skills, supporting people to get involved in their local park and green spaces. Sometimes we can overlook the simple health benefits of walking, taking in nature and being in fresh air. Social prescribing looks to make these types of activities part of the solution to people's health needs.
As part of the Green Social Prescribing project in Plymouth, Argyle Community Trust are currently delivering a range of weekly activities which aim to encourage people from the local community to become more physically active and get back into the great outdoors. These include a Walk & Talk group for older adults who are at risk of isolation, Beginners Bowls sessions, a Couch to 5k programme which aims to support people to run 5km in 9 weeks, an outdoor Soccercise circuit class, sessions that use sport to engage with Armed Forces Veterans and a school holiday activity club.
Ben Kerswell, Argyle Community Trust's Health and Wellbeing Manager, said:
"As well as the obvious health benefits, such as losing weight, it has been found that physical activity has also had a positive impact on participant's mental health, reducing social isolation and improving their overall wellbeing. We are working closely with the Wolseley Trust, who employ social prescribers that work in partnership with GP practices across Plymouth, who are able to connect people to the project for support to get more active in a safe and friendly environment."
These are just a few of the projects supported by the National Academy for Social Prescribing's (NASP) flagship Thriving Communities Fund. 
Along with partners Arts Council England, NHS England and Improvement, Sport England, Natural England, Historic England, the Money & Pensions Service and NHS Charities Together, NASP have committed £1.8 million to supporting communities to recover from COVID-19. 
The Thriving Communities Fund supports local voluntary, community, faith and social enterprise projects that bring together place-based partnerships to improve and increase the range and reach of available social prescribing community activities. The 37 funded projects focus on arts, culture and heritage, nature and green spaces, physical activity, and financial and life advice. Focusing on what works for each individual and community, it supports the National Academy for Social Prescribing's aims to build relationships, grow the evidence base and share what works, all whilst raising awareness of social prescribing. 
Kevin Duala, footballer, dancer and broadcaster turned his life around through the power of physical activity. During an episode of Podcast on Prescription, he commented:
"I believe playing any sport will test your mental strength and working in a team has huge mental health benefits– and social prescribing would have definitely helped me. I'm very interested in social prescribing because I really believe that at my time of need had I had access to social prescribing,  I'd have got to where I am now a lot quicker. If you feel unsure about where you are in your life or things are closing in, if you have to ask yourself the question, then speak to your GP and say, 'Look, I need someone to talk to, can I see a link worker?' and get access to the resources and activities available through social prescribing. Social prescribing can make your life better".
James Sanderson, Chief Executive of NASP, said:
"We know that sport matters to people and have seen time and time again the amazing impact it has. Social prescribing connects people to community-based sport and physical activity groups and opportunities, allowing them to improve health and wellbeing through fun and enjoyable activities. Exercise is something that we all benefit from, and which can help us live healthier and happier lives. "
Find out more about the Thriving Communities programme and funded projects.