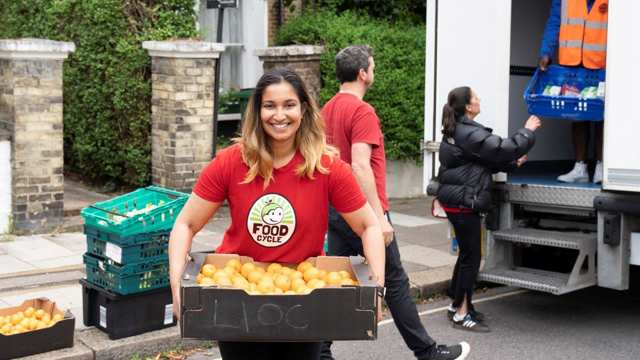 Sharing surplus food and conversation at FoodCycle

 
At FoodCycle, part of our Community of Practice, volunteers transform surplus food into delicious meals for anyone that needs them
FoodCycle connects communities by bringing people together to share food and conversation. Week in, week out, thousands of volunteers across the country transform surplus food into healthy, delicious meals for anyone that needs them, no questions asked. 
Food poverty and loneliness are growing issues. By offering a safe, welcoming space to enjoy a free meal and company, FoodCycle brings people from all backgrounds and walks of life together, improving mental wellbeing and strengthening community spirit. 
FoodCycle also runs a free Check-in and Chat telephone service, where volunteers make weekly calls to anyone in need of a natter. 
We currently have 42 community dining projects, mostly in England and we opened our first in Wales in 2021. In its first 5 months, FoodCycle Newport served almost 1,500 free meals and engaged almost 50 volunteers thanks to strong support from the Welsh Government and local groups. 
We are already busy planning a second project in Wales, as well as a further 25 projects by end of 2022 and have a total of 100 FoodCycle projects by the end of 2023! 
A route into employment 
We have a range of supporters – from trusts and foundations to longstanding corporate partners such as Just Eat. Last year, we embarked on an exciting partnership with Quorn who have helped us fund projects across North East England. 
We also set up a Development Team in 2021, to connect with local communities pre-opening.  This has allowed us to identify key local partners and reach potential guests and volunteers in new areas more efficiently. 
To help us grow and to reach more people who need us within local communities, we are keenly aware of the power of social prescribing and we are always looking to improve links with GPs and NHS systems – particularly addressing issues of food poverty and social isolation. 
As well as bringing communities together for a free meal and good company, one key area we would like to develop is enabling FoodCycle guests to become volunteers – hopefully acting as a route to employment. All our volunteers are trained in food allergens and first aid awareness, as well as learning key hospitality skills and time commitment. 
Being part of the Accelerating Innovation community of practice 
For us, working with Accelerating Innovation is a great opportunity to highlight the work we do at FoodCycle to other volunteer organisations within our communities. As well as offering them a safe space, company and a nourishing meal, it would be fantastic to signpost them to other services within the community – from provision of financial wellbeing info to health resources to social activities. We also rely on the support of fellow community groups and volunteer projects for referrals – helping us to share the virtues of our community dining model and help more people. 
FoodCycle's core aims are to: 
Connect communities:

help strengthen and build resilient communities by bringing people together to share healthy, delicious meals.

 

Support mental health and wellbeing:

enhance the health and mental wellbeing of all by creating welcoming spaces for people from all backgrounds and walks of life to have conversations together.

 

Nourish hungry people:

improve nutrition and reduce hunger by cooking healthy meals for those in need, leading to improved food knowledge and changes in behaviour.

 

Promote sustainability:

change attitudes to food and society's impact on the environment by cooking with surplus ingredients.

 

Inspire change:

share the virtues of our community dining model and the voices of our guests to gain greater support and speed our expansion, enabling us to help more people and more communities.

 
--------------  
Karen Hamilton is FoodCycle's Head of Programmes.  
FoodCycle is part of the Accelerating Innovation in Social Prescribing community of practice. This brings together voluntary organisations with national reach who can support social prescribing provision, help address health inequalities, and aid COVID-19 recovery strategies.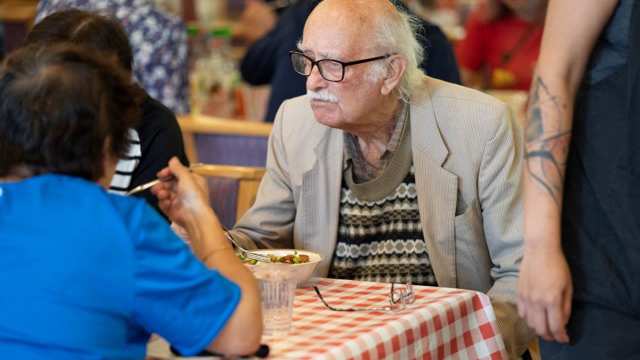 Continue the conversation