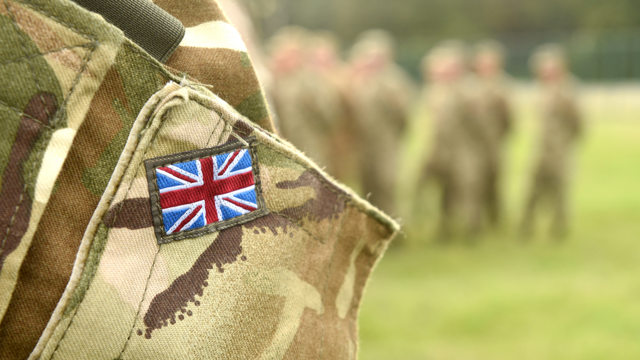 Meet Ashlee, a former member of the armed forces and a social prescribing link worker, who is on a mission to help veterans get the support they need.
Ashlee left the army feeling prepared for whatever life had to throw at her. She'd been trained to be able to deal with life or death situations, surely civilian life would be easy? But – leaving her exit interview armed only with a thin plastic folder of information – she felt completely overwhelmed.
She said: "Coming out of the army in my twenties, I didn't know what council tax was. I didn't even know you had to pay for water. Doing things like writing a CV or going to a proper job interview was so alien to me. It was a real culture shock."
When she became a social prescribing link worker, Ashlee knew it could have huge benefits for people who, like her, struggled after leaving the armed forces. Social prescribing is a way of working with people to take a more holistic approach to health; providing information, resources and signposting to activities which help get to the root of the problem. In Ashlee's experience, this is exactly what veterans need.
Local knowledge of specialist support
"People often have lots of complicated physical health problems, but they also often struggle with the day to day living as well. In the forces, you're told when you should do things, how to act, how to dress, but then you're let into the big wide world and have to fend for yourself. And it is a world that some people joined the forces to escape from.
"It can take up to 10 years for a veteran to be diagnosed formally with PTSD-unless people are in a crisis, it can be difficult for them to access help. There are so many things that can be a barrier."
When GPs refer patients to a link worker, they are given the time and space to really get to the heart of an issue. Link workers are equipped with local knowledge of specialist services that can be especially beneficial for veterans who – as Ashlee describes it – can often find it hard to ask for help.
This is also why she is an advocate of the Royal College of General Practitioners Veteran Accreditation programme which began in 2019, in partnership with NHS England and Improvement. The aim of the accreditation is to allow practices to better identify, treat and refer veterans, where appropriate, to dedicated NHS services.
Military understanding
Ashlee said: "Social prescribing – and this accreditation scheme – is a brilliant model for veteran care. People I've worked with said they felt better looked after, better understood, and felt more comfortable talking to someone who had military understanding, or the time to get to understand."
Ashlee is a fantastic example of one of the many talented link workers who are helping provide a better quality of care for our communities. For people like her – and the thousands of people leaving the armed forces every year – social prescribing really is a revolution in health care.
Jim Burt, Executive Director of Programmes at The National Academy for Social Prescribing said:
"One in five GP appointments are for essentially non-medical problems, like loneliness, isolation, or problems with debt and housing. And in many other cases, people's personal circumstances have a huge impact on their physical and mental health.
"Social prescribing link workers come from all walks of life and do an incredible job spending time with people, getting to know them, and connecting them to practical and emotional support within their communities. It's inspirational to hear how a veteran like Ashlee is using her own experiences to make a difference to others."