by Monica Boulton

 
Community Connections Lead at NASP
The potential: A connected social prescribing system driven by cross sector collaboration 
The outcome: Resilient communities, improved health and wellbeing and sustainable development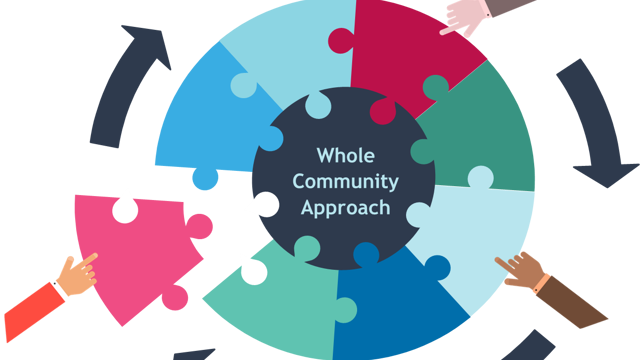 Earlier this year, our new strategy for 2023-26 was launched with 5 key ambitions for how we want to drive social prescribing and support the movement. Our core mission remains the same: NASP wants to help people to live the best life they can through social prescribing¹.
Since the publication of the NHS Long Term Plan (2019), social prescribing has grown significantly following NHS investment in Link Workers. There has been high demand for social prescribing with 1.6² million people referred by GP practices to Link Workers and onward to community groups and services.   
Alongside this, the Health and Care Act (2022) positions voluntary and community groups as central to future health and care services³. For example, NHS Integrated Care Boards (ICBs) are now required to engage with the voluntary, community, faith and social enterprise (VCFSE) sector. New statutory Integrated Care Partnerships (ICPs) bring together the NHS, Local Government and VCFSE partners to focus on health-generation and talking cross-boundary issues.
In addition, the NHS is investing more into activities which address health inequalities, such as the CORE20PLUS5⁴ programme (which focuses on deprived areas and people experiencing the greatest inequalities) utilising models such as 'Community Connector' schemes5 delivered at 'place' level. The recent Hewitt review called for Integrated Care Boards to shift greater proportions of their budgets from acute care to prevention of ill-health, primary and community services6. 
All of this presents considerable opportunities to VCFSE groups to improve the health and wellbeing of communities in places where these outcomes are poor. By working together to build a local social prescribing system, there is a unique opportunity for VCFSE organisations and their local health system to improve connectivity, strengthen assets and integrate services all required to drive up health and wellbeing outcomes.
Social prescribing, which we define as actively connecting people to activities, information and resources to help address an unmet health and wellbeing need or risk, demands collaboration and it can be helpful to view as a whole community approach, or a system rather than one route to support. When this "system" works well, there are benefits for not only the individual, but also for health equity, the health system, the economy and the environment.
The "Rolling out social prescribing" report by National Voices found "coordination and collaboration across and within the statutory and VCSE sectors is one of the key principles of social prescribing set out in NHS England guidance. However, this ambition is not being uniformly translated into practical action on the ground" ⁷. We need to ensure that all areas have the time, resources and framework to build these cross-sectoral relationships and develop social prescribing systems that bring together everyone's contributions. Through this, we can achieve a sustainable model, one that is ever evolving and remains asset-driven whilst tackling community health and wellbeing needs. The beating heart of social prescribing is connection, whether it be individuals to activities, the healthcare system to communities, or bringing those with a common goal together.
Based on our and our partners' experience and evidence we are suggesting the core infrastructure that is necessary to support social prescribing systems to thrive through providing a Whole Community Approach framework (see diagram). Our ambition is that this framework is universally available, helps people to understand the infrastructure and where their contributions fit, brings together and builds on what we know is already happening, is the front door for practice and provides insight on improvement tools to support the advancement of social prescribing nationally. This approach encourages collaborative design of social prescribing systems in order for it to reach its full potential, and values the current diversity within social prescribing whilst encouraging better consistency.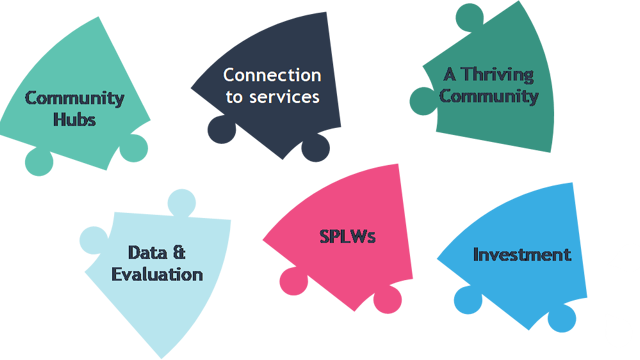 Community hubs - spaces, centres and places in the community that are accessible and shaped by the local community, supporting social prescribing through sharing information and connecting people.
Connection to services – a variety of ways for individuals to connect to services or find out information about what is available locally, including digitally.
A thriving community – a strong and sustainable VCFSE sector providing a variety of pathways and activities to suit individual needs, and a range of accessible volunteering opportunities.
Social Prescribing Link Worker role embedded within healthcare settings and the community with adequate training, support and networks. Targeted approaches and expertise to reach people experiencing deprivation and inequalities
Investment that is targeted and driven by local data, intelligence and knowledge from the social prescribing system. Though it is important to be asset focussed, we must identify gaps and focus on people and places that are currently underserved.
Data and Evaluation needs to be joined up and shared to get the full picture of social prescribing and the benefits so we can develop strategically.
The next phase of the social movement of social prescribing is critical to its success and the introduction of this framework marks the beginning of a journey. NASP wants to convene this conversation and explore potential partnerships that will move these ideas forward.
Over the coming months we will be working with regional teams, our national partners and key stakeholders to continue to learn and develop this approach. We will use this learning to continue to shape our delivery programme ensuring quality, collaboration, learning and development remain at the forefront of this work.
Watch the webinar