In response to the lockdown, we have introduced a number of projects that we have been delivering to our community virtually. Please, if inspired use these ideas for your own stimulus to get people dancing and share with us by tagging on socials #dancingthrough or come and join us for a class – we would love to see you dancing!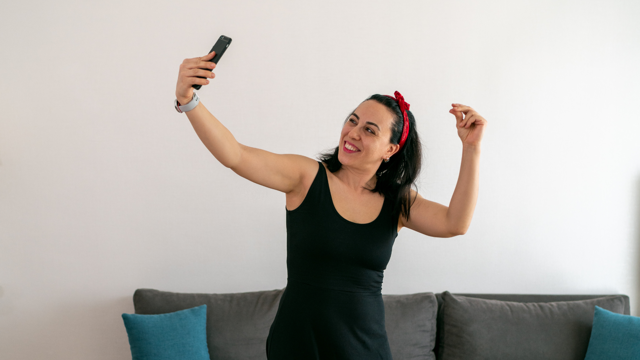 Social Dis-Dancing
We started the first lockdown in spring by offering 2 x full monthly days of classes, taken from our full programme and available for different ages. It was a great way to connect with our current dancers and new people nationally as anyone could attend. We offered live and pre-recorded sessions across the whole day and people could pick and choose what they came too. Each session lasted around 30 minutes, so people were not locked onto screens for masses of time. In total over 500 people joined the two dates and we raised £1600 in donations as a pay what you can afford programme.
Creative movement postcards
Since April we have been sending our adult dancers movement tasks on postcards. Many of these groups do not have access to technology so they are unable to join us in a Zoom setting or otherwise, and therefore we have stayed connected by sending them tasks on postcards that they can do in the comfort of their own homes. We created ours for mass print but if you have a small group how wonderful to receive a handwritten task? We also asked them to send us feedback by postcard. Maybe you could even ask them to send you a task in return?
Dancing through lockdown resource book
We have created a 'quick' resource book which includes a class from each of our practitioners. It has been offered to all our community via email but was also printed and sent to all our dancers over Christmas.
Props packages and DVDs
we have created and sent each of our dancers a props package and a DVD with 5 classes to keep them moving at home. The props package was also delivered in a particularly creative way through our project Doorstep Dancing. Two of our artists created a piece of choreography to show our dancers how to make the best use of their props. They have been dancing on our 'dancers' doorsteps to hand out these packages. For the DVD's we teamed up with our local college who helped us to edit and get the films onto DVD format.
Winter resilience
We created an online bank of short 3-minute videos for people to keep safe in their environments through the winter. Created initially for older adults to support prevention of falls in a facemask, we took this idea and thought about everyday tasks and then linked that to a movement / dance task that people could complete. The videos have all been created by our Dance artist simply filming herself on an ipad and uploaded to our YouTube channel. Each day throughout November 2020 these were released on our social media channel, but they have also been sent to all our community partners to share with care home and sheltered housing scheme residents each day. We have also created a presentation which will show a snapshot of the video and an explanation of how to follow the tasks for those again not able to access technology.
Postivi-TEA
We have been offering weekly social get togethers for those that can join us for a chat and a cuppa, and a little self-expression movement called 'Dance Like No-Ones Watching'. Between us we chose 10 minutes of music tracks that are uplifting, and we just turn our cameras off and just move to the shared music! We come back after 10 minutes of movement to have a chat about our past week and what we have coming up in the next one. These sessions are so important to our core values as an organisation. In all our classes we have a social element which allows for peer support networks to grow and develop so that no one ever feels alone and these connections and friendships alive.
Instagram live
We have started using Instagram to reach younger audiences. It is a fantastic platform as you can chat to them, and they can ask you questions or comment on posts. It has been a great way to introduce ourselves to new young people but also stay connected and offer dance sessions to our usual groups. We can quickly jump onto Instagram Live without any worries about lots of admin.
Good old phone calls and letters
We have sent various letters to our dancers who are unable to get onto screens and laptops to keep in touch and see how they are doing.
Monthly Enews – We have been sending out monthly enews to our subscribers, which we hope is a monthly 'pick me up'. Included is our Artistic Director's Joy List of 10 items which prompts people to think about taking time out for themselves and encourages self-care. Our enews also highlights important information from partners and signposting of how people can access other services that link to our dance for health programmes, i.e to a dementia blog for at home activities or online dance performances to inspire, motivate and enjoy!
Created a playlist for our weekly listens
On Spotify, our Artistic Director has been adding feel good tunes to her own weekly list which can be shared/followed, and we also have a separate list for Positivi-Tea and many of our classes which will support artists to find some new tunes for classes. You can use these playlists to take part in your own daily practices of 'Dance Like No-Ones Watching', to set you up for the day or week ahead. We recommend choosing tracks that last 10 – 15 minutes in length. You can also create your own playlists and ask artists and dancers to add their favourites to the list too!
Dancing through- lockdown 2.0
With thanks to the Culture Recovery Grant from the Arts Council, DCMS and HM Treasury we have been able to contract and deliver a new set of weekly classes. The idea here is to keep everyone dancing every day! #creatingdanceforall
In the October – November lockdown many of our classes were shared via YouTube engaging with as many people as possible, giving an opportunity for those who have never danced before could come along and join in at their own pace.
Dancing through lockdown 3.0
We moved our live classes onto Zoom but all our classes are available on demand on our website, for anyone who missed a class, and for people to dance along with between sessions.
We just want people to enjoy dancing and feel its positive benefits on their own wellbeing. We hope we have classes for everyone!
We have classes for families and early years, for SEND settings, young adults, working adults, adults in general (old and young).
We hope after lockdown that these classes will move back into 'in person' live classes so we can truly connect but for now, we want to encourage people to take part in our sessions and engage in dance during lockdown and over the summer months.
All classes are free but if you can help support us and other to keep dancing beyond this pandemic, we would very much appreciate your donations! You can show your support here.
…………………………………………………………………..
Gemma Wright is the Artistic Director and Founder of dna.
Continue the conversation