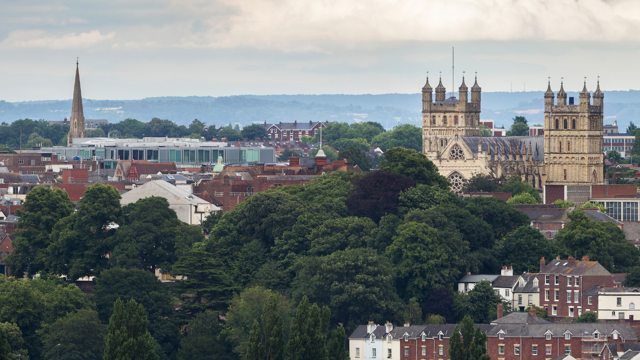 "Engagement with heritage can change lives. It makes people proud of where they live, and inspires them to participate in their community. Our pilot projects have shown how volunteering, sharing stories, and engaging with heritage has an impact on personal health and community wellbeing. This funding will enable us to establish long term solutions through the power of history and heritage."
The plan is to increase social prescribing in the community by developing resources which will involve a range of activities such as training and workshops, presentations, welcome, curations, story telling skills and personal development activities for goal setting, confidence and resilience building and training in using spaces. They also aim is to show visitors the heritage and history of the St David's area of Exeter and will recruit and train local Volunteer Trail Guides to do this. The local community will also be invited to attend open days, community events, exhibitions, artefact handling sessions in Exeter Community Centre and St Nicholas Priory, so that they see the power of heritage.
ECCT set up a similar project in 2020, St David's Community Help Scheme, which takes referrals from Wellbeing Exeter – the social prescribing hub. The scheme highlighted the potential to engage the community in deeper cultural awareness of the area, its heritage and diversity as a way of promoting health and wellness. All's Well will build on this, engaging more people and shaping the experience of heritage with health benefits. 
"The Heritage and Cultural project will be a fantastic opportunity for the residents not only of St David's but of the whole of Exeter. When in such uncertain times, just seeing groups and organisations come together to support residents and the community – demonstrates the resilience and future of the community."
The Exeter Historic Buildings Trust is developing St Nicholas Priory as a hub for the creative, cultural and social engagement of the community. In the Benedictine wellbeing tradition, the Trust will open a 'Modern Medicinal Garden' at the SNP in summer 2021, a volunteer-led project following a process of community garden design workshops. The St David's trails and events will promote the Priory as a living example of a community welcome to all. By training volunteers, the Trust will develop understanding of wellbeing through plant-based remedies and medicines – their past and present uses.  
The team have some ambitious targets, aiming to have 30 volunteer Community Hosts, Curators and Trail Guides, 220 participants in 18 St David's Trails and 3000+ visitors to events and exhibitions. 
Those taking part will experience improvements in confidence, feeling less lonely, a greater sense of community belonging, more frequent contact, and better physical health. They will also gain a deeper understanding of local community places and spaces and grow their knowledge of the heritage and distinctiveness of the neighbourhood. 
Following their community engagement activities, ECCT has developed a volunteer 'community researcher' programme. Local residents are now researching the history and heritage of Exeter Community Centre and the neighbourhood of St David's, and helping produce stories which will feed into the St David's Trails and the training of the volunteer Trail Guides.
Similar projects are already running in Exeter such as the University of Exeter's Wellcome Centre for Cultures & Environments of Health (WCCEH), which identifies ways that its research and the Exeter community activity can connect in ways to add value and enhance the evidence base for social prescribing. 
The long term goal is to transform social prescribing in the area and build connections between the public, voluntary agencies and community groups, so that by spring 2022 they will form St David's Community Wellness Network of public and VCSE organisations. 
---------------------------
Hannah Reynolds is the Chair of Trustees at Exeter Community Centre Trust
Continue the conversation