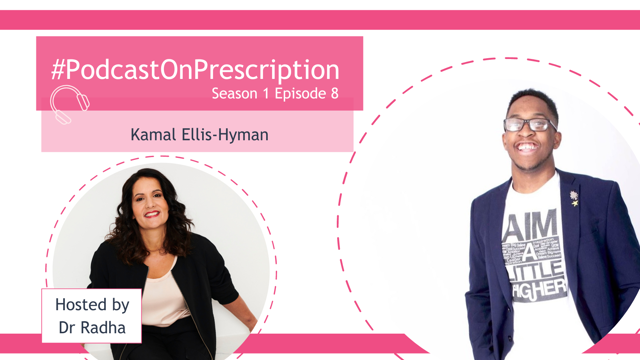 On our latest episode of Podcast on Prescription, Dr Radha Modgil speaks to motivational speaker and spoken word artist, Kamal Ellis-Hyman.  
With a passion for raising young people's aspirations regardless of their circumstances, Kamal has been a Youth MP for Peterborough and an Olympic torchbearer. In 2019, he was awarded Peter Jones' National Entrepreneur of the Year. Kamal founded Aim A Little Higher, an organisation that delivers assemblies, workshops and programmes to students on topics such as self-awareness, clarity of purpose and work ethic. He has worked with over 40,000 students across the UK.   
Kamal performed less well than he wanted to in his mock GCSEs but turned things around to achieve 7A's & 2A*'s. He now uses his experience and tools to help young people and students realise they can aspire to be whatever they want to be. He is a non-executive Director at National Careers Week where he works to ensure young people can access high quality careers information and resources. 
In this episode, he talks about self-expression, finding your purpose and where he sees the benefits for social prescribing for young people.  
He has also written and performed an incredible spoken word piece all about social prescribing and the impact it can have on people's lives for us at the National Academy for Social Prescribing.   
Listen now