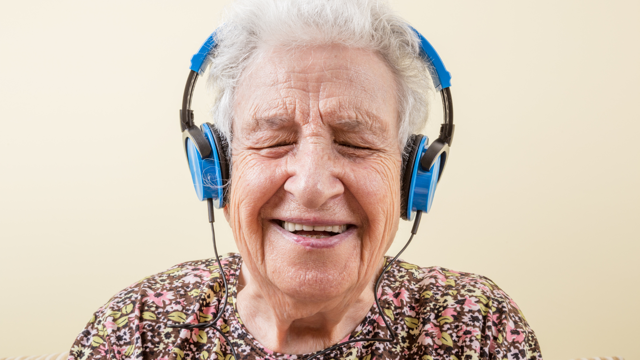 One of the great joys of music is that it enables us to focus on what people can do, how they can contribute and be part of experiences to support their health and wellbeing.
By socially prescribing music, link workers play a vital role in supporting people living with dementia to live as fulfilling a life as possible.
As Dr. Jason Karlawish, project leader of makingsenseofalzheimers.org, says, "Dementia is a disease that is a humanitarian problem. It is a disease that's wrapped up in our humanity and therefore the humanities are essential in helping to understand, make sense of and live with this disease."
Depending on where a person is on their dementia journey, they can take part in singing groups, listen to music with others or on their own, participate in music making or song-writing, or even learn to play an instrument. The Musical Dementia Care Pathway outline the ways music can be introduced throughout this journey.
Impact of music
We process music cognitively, emotionally, physiologically, and socially. Our connection with music is innately built into us from before birth and it is still able to reach us even near the end of life. I regularly hear moving stories of people who connected with a certain tune or song which enabled them to be present in the here and now, even if only fleetingly.
There is also a robust and growing body of evidence demonstrating the impact and value of music for people living with dementia. For example, music therapy has been shown to reduce agitation and the need for medication in 67% of people with dementia, while regular singing can reduce depression levels by 40% in care settings.
Choice and personalisation
Through the link worker's role, people (and their support network) can be shown how to use music in a variety of ways as an integral part of care. Music can help those in the early stages stay independent and active, it can aid personal care, support key moments such as mealtimes, provide focus, stimulation and a meaningful experience. Link workers can show people, and their support network, how to incorporate music into their care.
Choice and personalisation
With personalisation as the key, music can and does make a significant difference in improving quality of life for those with dementia and those around them.
Start with a musical conversation. Ask: What music matters to you and why? What music relaxes you or gets you going? Which era of music do you enjoy? Build up a picture of a person's musical preferences plus anything which may cause upset or agitation, as described in our Link Worker Guide.
Signposting
Suggest how to use this information to enhance every day, listening to a favourite playlist or radio station, or signpost people to a suitable activity online or in-person. The Musical Map for Dementia lists a large selection of activities, from choirs to dementia discos, live and pre-recorded shows.
While there is no cure for dementia, let's remember what it means to be human and support people through music to be seen for who they are beyond their dementia. Music can, and enable autonomy and choice-making – a right we all deserve to have preserved.
-------------------------------------
 Grace Meadows is the, Director of Music for Dementia.