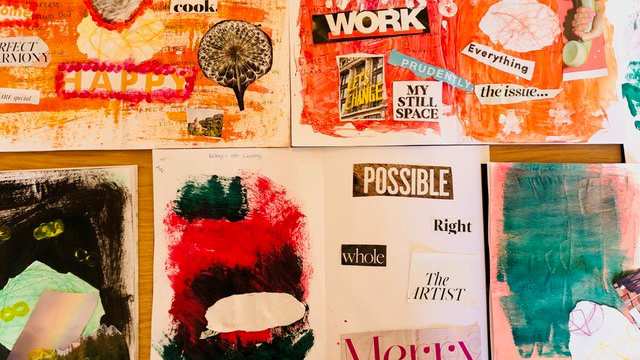 Most of us know what it is like to feel lonely, lack confidence and be unable to communicate our feelings. Thanks to Core Art Journaling and the arts on prescription programme Links to Thrive, two communities in Newbury, West Berkshire have been able to get some respite from these difficult experiences through discovering a new way to express themselves.
Founded in 2014 by Deborah Porter, Core Art Journaling offers creative courses for adults and young people which involve channelling and expressing emotions through something visual. Drawing from her own experiences with recovery and her background as an illustrator and graphic designer, Deborah shows her students how art journaling can be used as a tool to manage wellbeing in a safe space.
Art has been shown to have a positive effect on mental wellbeing and art journaling gives a person free reign to be creative without focussing on the end result.
"So many people tell me they aren't any good at art or were told they weren't any good by a teacher. My workshops are about breaking through that inner critic and circling back to the beginning of finding that joy of just making marks, letting go of it having to be perfect and making a connection to self and how you are feeling".

The only rule is there aren't any rules!"


The Creative Art Journaling course was offered as part of a wider initiative, Links to Thrive, led and organised by Corn Exchange Newbury. The Corn Exchange provide arts-based courses such as singing and crafting to vulnerable adults in West Berkshire, with the aim of improving mental health and wellbeing. The courses were held at local venues close to GP surgeries and offered as part of the local social prescribing scheme.
Six sessions ran from January to February this year for both the urban and rural communities in Newbury. A total of 20 people attended the 90-minute sessions once a week, with some being referred by a link worker while others signing up individually. Sessions centred on exploring creative techniques, mixed-media and mindfulness in a fun way, so by the end everyone had created their own private journal.
Many of the participants had health and support needs, particularly related to anxiety and stress, which were worsened by successive lockdowns. Vital pastoral support was given throughout by local groups such as as well as link workers and the Corn Exchange.
"It has helped me with my stress and anxiety and mental health."
By learning how to use art, participants were better able to manage their wellbeing, with many reporting improved confidence and connection with others and genuinely looking forward to attending every week, fulfilling the project aims. Below are a few thoughts from those who participated.
"The silent support of the participants was really wonderful. On the top, we learnt a very good way to improve our mental health via the creative art journaling. To me it started to be something to really look forward during the early week. I was able to tolerate the difficult days of the week by knowing I get a real respite session on Thursday mornings."
"Thank you all so much, would highly recommend this course. Debbie is a wonderful tutor, she is engaging, funny, calm and most of all can connect us."
After a successful run, Core Art Journaling is being offered as part of the autumn Links to Thrive programme, which is running from September to December 2022. Deborah also offers her workshops to all ages both in person and online.
If you are interested in learning more or participating in the Core Art Journaling project or Links to Thrive, please visit the links below.
More images from the course