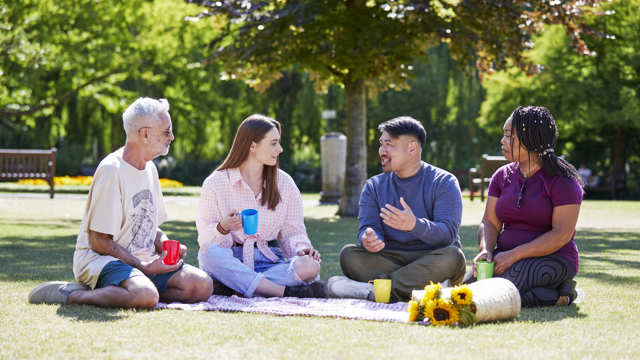 2020 has certainly been a difficult year for us all, but it has also been one in which the benefits of social prescribing have been resolutely evident. At the heart of the strategy we launched in spring,  'A social revolution in wellbeing',  lay a sincere belief that connecting people to the arts, physical activity, nature, and personal support was vital for maintaining health and wellbeing. Our experiences of the pandemic have served to reinforce to us just how much these essential aspects of life matter to us all.
2020 has also given us many inspiring examples of what people can achieve when faced with real adversity – stories filled with hope, social connection, and the power of our communities. The support that our NHS, and those working in communities, have given to so many people has been nothing short of remarkable. Social prescribing link workers, many of whom were new to their roles back in March, and community groups across the country stepped up immediately to support huge numbers of people in their local areas. Many have focused on those who needed to shield from the virus, or people potentially facing greater loneliness and social isolation because of the lockdown measures. From helping people access music to reading to art, read some of these amazing stories on our website. 
Growing social prescribing
It was in this spirit in October, we launched our Thriving Communities Programme, which seeks to champion and grow community and voluntary groups supporting people through social prescribing activities.
This year we have also worked with our partners, at a national and local level, to support innovative social prescribing activities. In November, through a new partnership with UK Active and NHS England and NHS Improvement, it was announced that 100,000 people will be offered free sessions in gyms and leisure centres through social prescribing – enabling thousands more people to access physical exercise.
We have also worked with government to support the announcement of green social prescribing test sites. These will look at how more people can access the natural environment at a local level and increase the number of people being referred to nature-based activities by their social prescribing link worker. And, just last week, we held an inaugural summit with the World Health Innovation Summit, the World Health Organisation, and UNGSII, to kickstart a global alliance for social prescribing.
A huge thank you
Looking ahead to 2021, we are keen to develop a wider evidence base for social prescribing, work with partners on an innovation programme, and consider how we might spread the word further, working with our brilliant social prescribing ambassadors and clinical champions.
We want to sincerely thank all those who have supported us on our journey so far as an organisation, in a challenging but impactful inaugural year. We are only as strong as our partners and the community we wish to support. We would particularly like to thank Arts Council England, the Department for Health and Social Care and the Health Secretary Rt Hon Matt Hancock MP, the Department for Environment, Farming and Rural Affairs, Money and Pensions Service, Natural England, NHS Charities Together, NHS England and NHS Improvement and Sport England, for their substantial help and support as we have grown into a charity this year. We are also immensely grateful to our wonderful team and wider colleagues who have achieved so much in such a short space of time, and done so with great passion and positive energy.
Never has the power of connecting people, which lies at the heart of social prescribing, been clearer. We really do believe that lives at the heart of our organisation. We know that recovery from this pandemic will be a long process, but, for this year ahead, we are more determined than ever to support the implementation of social prescribing as a key mechanism in enabling people to live their best life.
Wishing you and those you care for the best possible 2021.
Helen & James
------------------------------
Helen Stokes-Lampard is the Chair of NASP. The Chief Executive is James Sanderson.