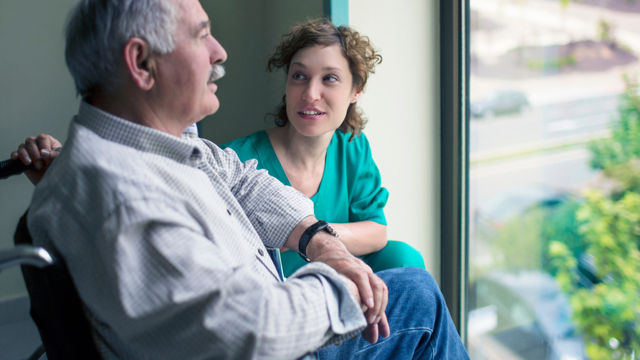 When I started working on social prescribing at NHS England, nearly five years ago, I'd just lost my dad and my mum-in-law, on the same weekend to cancer. They died within 30 hours of each other, which was awful, but at least meant we were dealing with everything efficiently, in one go!
My hubby and I had both taken unpaid leave from our jobs to care for them. I only cared for a few days before my dad was rushed back into hospital, where he died. My husband, Steve, took carer's leave from his high-pressured job running a child protection legal team for a large local authority. He had gone to live with his mum for four months, to make her last Christmas as manageable as possible and try to preserve as much dignity as possible for her during the cruel weeks of rapid decline and loss of her bodily functions. The local hospice was fantastic and made everything as manageable as it could be.
In that short time, we realised how hard caring is and how physically demanding. How difficult the transition from being well and respected in our jobs, to applying for benefits and being regarded by health professionals as 'just the carer'. We coped with long waits at A&E, chaotic, frequent hospital discharges and having to tell our stories over and over again to people in the same hospitals who hadn't read the notes. We tried to exude calm, for example, when grandma was giving all her jewellery away to our daughter, holding her hand for the last time, or when my dad was signing away all his financial affairs, to make it easier for me to deal with when he was gone.
A selfless act
What we reflected on most, that bleak Easter, as we organised the funerals, is that both our loved ones had been the family carers for many, many years. Steve's mum had cared for her brother, dad, husband and son (Steve's brother), all who lived with multiple long-term conditions. She did this on her own, without anyone to share the responsibility. My dad had cared for my mum for eight years, before she died of COPD, keeping her out –of hospital many, many times, with his tender, loving care.
Caring meant they didn't have time for themselves. They lost opportunities and friendships, because their time was too limited. They cared selflessly, quietly, so that we didn't have to, so that we could have the big careers, nice houses, pensions and everything that comes with being 'successful'. We worked hard, but we realised, not anywhere near as hard as they did in their under-paid, under-valued caring roles. Yet we were the ones who were applauded for 'having good jobs and doing really well'.
It's good to step back sometimes, reflect and give the biggest show of appreciation we could possibly give to all the paid and unpaid carers whokeep us going. My dad used to say; "At the end of the day, all we can do is be there for each other". The best future we can create is one where caring is valued highly, fairly paid and properly recognised for being the most important thing we can do for each other. The pinnacle of what's important and valuable in our society.
Supporting carers
We need to ensure that social prescribing gives as much support to carers as the people who are cared for. Carers need practical support to keep their jobs, sort out money and benefits, get help with equipment, as well as have time for themselves, to sing, dance, enjoy a quiet moment with nature, do something creative or just to have a break.
I'm dedicating my part in the social prescribing story to my dad, Jack and my mum-in-law, Rose. Their strengths gave me the willpower and resilience to keep going and work together with others to build the infrastructure for social prescribing link workers across health, care and local communities. Being part of such a powerful movement, which enables people to live their best lives, to belong to their communities and not feel alone, makes up for the all the times when I've felt guilty because I've not had enough time to properly grieve.
I heard a lovely story the other day, which made me smile deeply! It involved an older man in Wakefield, who had cared for his wife before she died, and was left feeling bereaved and lonely. The social prescribing link workers connected him to community support and he said a big thanks, because he "never realised these wonderful services existed".
Thank you link workers, thank you carers, thank you to everyone who's involved in building community support and going the extra mile for others. This is the future we deserve, a future that puts caring at the centre of everything and one that supports us all, whatever our background to bring about a social revolution in wellbeing. One that enables us to be there for each other and to live our best life.
 -----------------------------
Bev Taylor is part of NHS England's Personalised Care team. She played a major role in gaining mainstream support for social prescribing across the NHS in England.