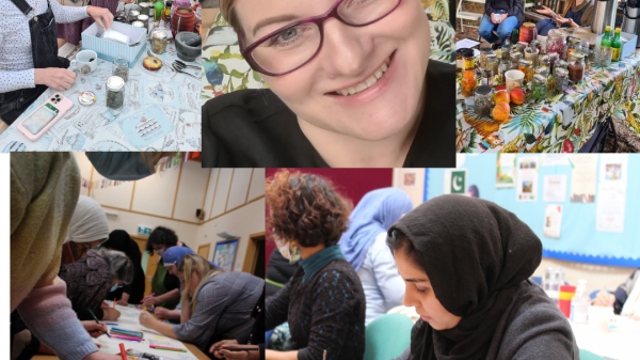 Wonder Women is raising women's profile in Peterborough

 
The Wonder Women programme helps women build confidence, develop self-esteem and improve financial literacy
Wonder Women aims to raise women's profile in Peterborough. The project was brought to life by the Women's Forum of Peterborough Council Voluntary Service  after the realisation that no specific activities were being run to support women in the city. 
Wonder Women helps women overcome the negative effects of the COVID-19 period. This includes building their confidence to go out, meet with others, grow self-esteem and improve financial literacy whilst sharing stories through creative non-threatening processes. It supports them to build networks in their community and overcome trauma or grief. It provides advice and guidance for practical needs such as budgeting and welfare. 
The sessions encourage participants to have open conversations and share their story at their own pace whilst engaging in therapeutic activities such as arts and crafts, and growing and environment workshops. I had the pleasure of attending some of these workshops myself and what I enjoyed most was meeting new people and having the opportunity to sit back and listen. It was like a therapy session – where I could be myself. The thoughts I left with were about what else could be done so women feel self-confident and open to communication, going out and having time for themselves. 
The main challenge faced so far is reaching out to women who are eligible to take part in the scheduled Wonder Women activities. We have overcome this by publicising events through social media and by simply being as accommodating as possible to people's needs to encourage them to sign up. 
The outcome so far has been very positive. There is improved engagement from lower socio-economic groups as activities are freely accessible, welcoming and easy to engage with. Communities affected by COVID-19 are becoming stronger, through improved community spirit, increased activity and an increase in women taking the lead. The women who have attended Wonder Women sessions so far are finding and developing their voice. 
We are trying to encourage smaller groups to host Wonder Women-funded sessions to give them the opportunity to introduce and expand their offering to other groups and communities. 
Overall, our ethos is not to listen but to hear, and not to do what we have planned but to be open and adapt to people's needs. 
------------------- 
Snieguole Maliavskaja is the Project Coordinator of Wonder Women in Peterborough. 
Continue the conversation