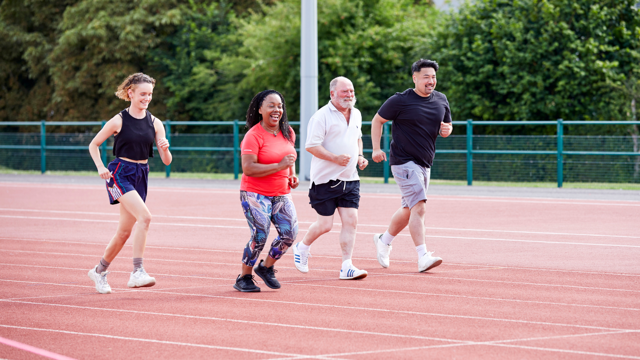 Run Talk Run was founded in 2017, on the back of a year weighed down with depression. Having opted for formal therapy, medication, and other "tickbox" self care strategies without much luck, I discovered one thing which helped a lot – talking about my mental health whilst on a run. I searched for support whereby I could move and talk about my hard days, and negative thoughts but couldn't find a space that felt right to me in my depressed state.  
I started by hosting a weekly meetup every Thursday evening, and now Run Talk Run is hosting mental health support groups nationally, facilitating peer support whilst out for a gentle 5km run. The objective is to create a safe space to talk about how you're feeling in a less intimidating environment. The runs are free to attend, and take place on a consistent weekly basis which allows our participants to really establish the support as part of their routine. It is scheduled self care, in the supportive company of people who know what it's like to live with mental ill health. 
We often find that once you create a space whereby talking about your mental health is both permissible and encouraged, people will willingly share their experiences and support their peers in equal measure. 
As you might imagine, running is not for everyone! We minimised this barrier, which might have otherwise been challenging, by lowering the bar to participation and being open to ALL abilities of runners and adapting our routes. We also introduced Walk Talk Walk as an alternative space, to open our doors to more people who are seeking support.  
The outcome of our spaces is that we have community led initiatives running at scale, whereby the leader of the group gets just as much support as an attendee. People are opening up about their mental health in a non–medical setting, thus normalising the conversation and normalising seeking support from our peers. A survey conducted in December 2019, found that 82.9% of runners stated that Run Talk Run had improved their mental health. 
My top tip for anyone thinking about establishing a community organisation would be to welcome the support of volunteers, and not take it all onto one pair of shoulders! I love the quote "if you want to go fast, go alone, if you want to go far, go together". 
To find out more about Run Talk Run, or get involved in our community please reach out to [email protected] or visit our website.
…………………………………..
Jess Robson if the Founder of Run Talk Run.