by Reaching People Together

 
members of the Accelerating Innovation Community of Practice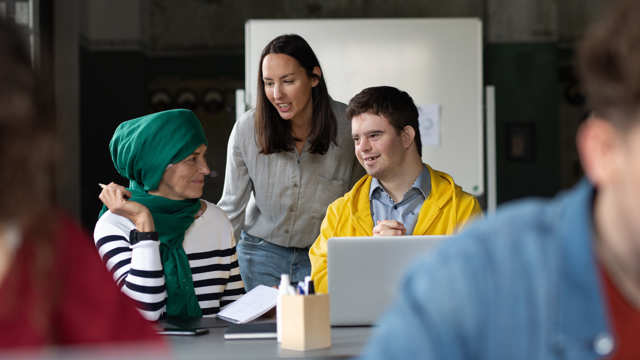 There are many causes and triggers for health inequality but poor housing, unemployment, poverty, ill-health, and relationship breakdowns can all be a factor.

 
Reaching People Together  took place across Hampshire, with Advice First Aid (AFA) being piloted by Citizens Advice (CA) Winchester District, Rushmoor and Hampshire, then rolled out across the county.  Their training resources were shared, and the programme is now being offered by other local offices.  
We initially launched this in response to the pandemic, with the aim of providing support around factors that contribute to health inequality, including factors such as poverty, poor housing and unstable employment.   These factors also include barriers that prevent vulnerable people accessing support, for example digital exclusion or anxiety approaching an unfamiliar organisation, or just not knowing that there is free, high-quality support available.  With Reaching People Together we partner with groups and organisations that have strong links within the community to break down some of those barriers and ensure support reaches those that need it the most. 
Reaching People Together is a collaborative project that has involved building partnerships with local organisations in order to support their beneficiary groups, in particular those identified as vulnerable or in higher areas of deprivation.  We've offered Advice First Aid training for our partners' team members to help them identify when people may have advice needs. Our aim is to enable them to be confident in initiating and manging conversations around these needs, and to use the wealth of information on the Citizens Advice national website to provide basic guidance and support.  Our Advice First Aiders then recognise when export support is needed and refer into our advice services. We've trained 259 AFAers across 83 organisations across Hampshire, with a further 122 people attending AFA skills overview presentations. 
At a time when opportunities for face-to-face support were reduced due to the pandemic, and vulnerable people were increasingly isolated, Reaching People Together effectively harnessed collaboration within the voluntary and community sector to ensure support reached those who need it most. 
The partnership programme has helped us build relationships locally, to break down some of the barriers to accessing advice, and it helps free up our advice team resources to focus on more complex cases.  We've raised awareness of CA support and how it can be accessed. 
Local residents are able to access support at the first point of contact with partner organisations as well as improved access to Citizen's Advice CA support leading to reduced deprivation and improved quality of life.  We surveyed our Advice First Aiders before and after the training and they told us they now have increased confidence in managing difficult conversations.  One AFAer told us: "Following training I`m confident in accessing information on behalf of [our beneficiaries] and answering basic questions."  
Reaching People Together has enabled CA to gain a better understanding of our partners' services and the particular needs of groups and communities they work with, and we're now working collaboratively with partners to provide support directly to their beneficiaries. 
Although funding for the Reaching People Together project came to an end, trained partners will continue to deliver Advice First Aid as we move deeper into the cost-of-living crisis.  Partnerships developed during the project will act as foundations for further collaborative work with partners of all size and scale, and we continue to offer Advice First Aid to local partners' frontline team members.
Training resources and lessons learnt have been shared with other offices so the approach can be replicated in their local areas. Reaching People Together won the Best Partnership Working award at the National Citizens Advice Conference earlier this month - that was an unexpected outcome but one we were thrilled about! 
-----------------------------------------------------------------------------
Louise Walton is the Advice First Aid Programme Manager for Reaching People Together