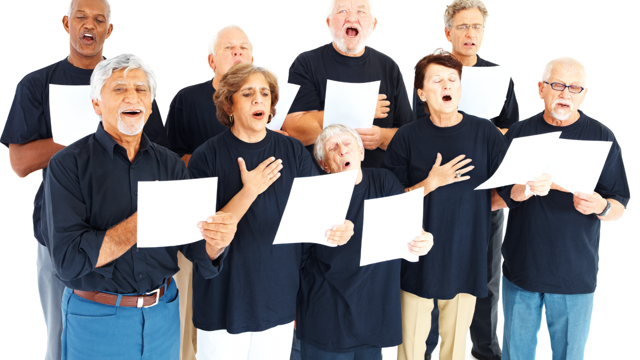 Musical Memories – bringing older people in Yorkshire together through singing

 
Ruth Hannah, Director of Musical Memories, shares how they're combatting loneliness and isolation through music
Musical Memories is a not for profit organisation based in Ryedale North Yorkshire. It was created in 2016 to give older people the opportunity to sing together and enjoy each other's company, with the aim of combatting loneliness and isolation.  
When the COVID 19 pandemic struck in March 2020 Musical Memories quickly pivoted from delivering live in-person sessions in the community, 'tooled-up' and 'up-skilled' to create an online service and since then has delivered over 180  livestreamed sessions with over 25,000 views, reaching people in all parts of the country. 
One such session is 'Elevenses', currently livestreamed free on Facebook three times per week. It has developed into a 'magazine-style' show which includes a couple of vintage songs, real time online chat with participants, live interviews, short videos, Tik Toks, photographs sent in by our singers and footage from the Yorkshire Film Archive.  Birthdays and anniversaries are always celebrated and laughter is at the heart of each session. There's a weekly 'guest-spot song' from our Community Liaison Officer, who is also a Digital Champion and helps people to log on and use their devices. We even loan out tablets if people need them.  Each sessions lasts about 20 minutes and our termly 'runs' usually follow a theme: so far we've explored 'Songs from Different Decades' 'Journeys' 'Our Happy Places' and we're currently enjoying the 'Sounds of the Sixties'. 
High quality songbooks are professionally printed and sent out to participants ahead of the run so that everyone can join in with the singing at home. CDs and songbooks are sent out after the run to regular Musical Memories beneficiaries who we know are unable to access the online service, so that they can join in too. 
Our volunteers have given over 400 hours of their time to support our venture: they find out how people are doing and keep their 'ear to the ground', they contribute songs, photos, stories and chat, which encourages other people to get involved too. 
90% of our participants said that our sessions helped them to get through the pandemic by helping to beat feelings of loneliness and isolation. 
'Thank you so much for all the cheer and enjoyment you have given to so many people, which is deeply appreciated even more this year. You have been a lifeline and a joy' GP Kirkbymoorside 
'Thank you so much for the songs, they keep me going' JV Pickering 
'Just wanted to let you know that Elevenses has brought sunshine and fun and laughter into the gloomiest of days' SG Pickering 
We've gathered participants from all over North Yorkshire and some from other parts of the country too and our 'Elevenses' sessions have helped us to stay in touch with all the members of the Musical Memories family. 
In fact everyone is welcome to join Ruth and Neil of Musical Memories for an Elevenses chat, laugh and a song or two – you can sing, whistle or just watch but we can promise we will definitely raise a smile and you will be in good company! 
-------------------------------------
Ruth Hannah is the Director of Musical Memories