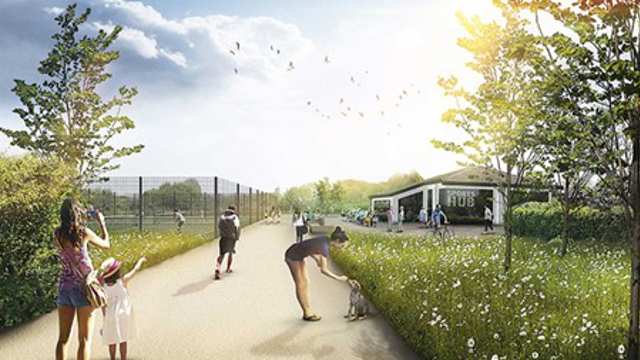 Argyle Community Trust are proud to be the official charity for Plymouth Argyle Football Club and uses the prestige of football and the reach of the club to inspire, engage and help people of all ages, achieve their full potential. Using Plymouth City Council's new community sports hub in Central Park as a base, they will be leading a project part funded by a Thriving Communities grant to develop high–quality activities that focus on green social prescribing. 
It will be centred around the conveniently located and accessible Central Park, which is close to North Prospect and Honicknowle – both of which will be served by the project. The park has a range of nature, as well as sports and recreation opportunities for all interests. However, community consultation indicates a number of both perceptual and physical barriers to using the park, including a sense that 'it isn't for me' and 'nothing to do.'  
Fuelled by a passion for a social prescribing offer in a public, outdoor and natural setting, the partnership will see those already running community health and wellbeing activities unite to increase the provision of social prescribing. 
Argyle Community Trust's Chief Executive Officer, Mark Lovell, says "We know social prescribing works, and through a programme of innovative activities want to see it brought to the green spaces of Plymouth. Central Park is such an amazing asset for the community, and we believe that getting people out and about to enjoy it will help them recover from the impact of COVID-19." 
Argyle Community Trust will lead sports and physical projects that utilise the park spaces, and provide employability and first aid skills training sessions, as well as ongoing training and support for volunteers. Funky Llama from Theatre Royal Plymouth will create and deliver inclusive arts using the outdoor environment as a novel location. Green Minds, a nature-based solutions programme funded by the European Regional Development Fund and Plymouth City Council, will lead on a range of nature for health activities, including wetland and tree species planting, wildlife watching, and mindful nature trails, by proving in kind time from the Devon Wildlife Trust's Urban Ranger and the National Infrastructure Community Engagement Officer.  
The offer hopes to engage 400 people in activity-based sessions and a further 300 in advice sessions. A long-term project, the goal is that participants will feel confident enough to return independently and embed time in green spaces as part of their own health and wellbeing. It will sit alongside a commitment of £6m worth of capital improvements from Plymouth City Council.   
"We have spent the last four years working with communities local and city–wide to deliver improvements to Central Park, the largest park in the city, and we are very excited to use this programme as a platform to promote the park's natural environment and high quality facilities as a safe and welcoming space to support everyone's health and wellbeing"
By creating a welcoming and safe space, and a sense that the park is a place for them, the project will see an increase in usage and engagement in the long term. Learning and outcomes will impact future green social subscribing initiatives to ensure that this vibrant and varied cultural, nature and recreation programme will be sustained long beyond the life of the project.  
….......................................
Ben Kerswell is the Health & Wellbeing Manager at Argyle Community Trust. 
Continue the conversation