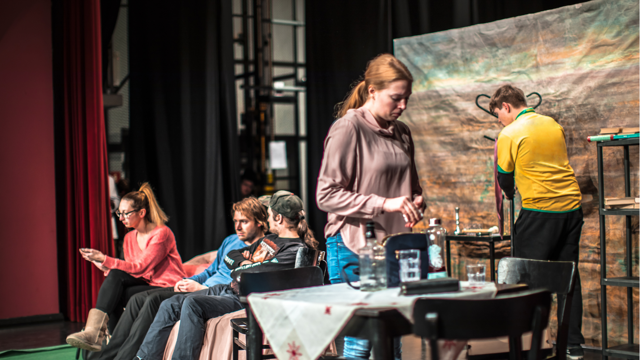 Mental health treatments past and present – a heritage, theatre and wellbeing project

 
A theatre project by the Restoration Trust is connecting people in Norfolk experiencing mental health challenges
The Dr Hills' Casebook project is an archives, theatre and wellbeing project aimed at improving the wellbeing of people in South Norfolk living with mental health challenges, and to stimulate public conversation, comparing past and present treatments.   
The project is a partnership between , the Restoration Trust, Norfolk Record Office, South Norfolk Council and UpShoot Theatre Company, 
It has been financed by the Heritage Fund and the Norfolk Archives and Heritage Development Foundation. This project grows from Change Minds, a successful Heritage Fund supported project that the Restoration Trust have run three times in partnership with Norfolk Record Office, Together for Mental Wellbeing and Norfolk Library and Information Service.   
Participants join a programme of research, learning and creativity utilising the archives of Norfolk Lunatic Asylum while Dr William Hills was Medical Superintendent (1861-1887). These records, among them Dr Hills' own journals, give a remarkable insight into 19th century care of the mentally ill.  
Participants taking part in this project will undertake research into patients of the Norfolk County Asylum, between 1861-1887. The original plan was for the Upshoot Theatre Company to tour the play around local theatres and community venues. Because of the COVID-19 pandemic, this plan has been repurposed to film the play in the style of a 'livestream' event, with the camera, moving around the space in a way you just can't experience when you see a play. This change has been an unexpected bonus, as a recording of the play will have a much longer life than a theatrical production. Currently, screenings are planned as far ahead as October 2021. 
Having faced over four months of lockdown and increased isolation, participants expressed great joy at having the opportunity to connect with this project and the people involved in it, many gradually overcoming initial anxieties about meeting new people and using zoom. We were committed to delivering the first phase of the project at a time when it was so needed, almost all people we met reported experiencing declining mental health due to the impact of lockdown.    
To date we have delivered 174-hours of contact time to participants, this includes many more hours than originally planned (pre-Covid), supporting participants to take part in research and creative activities online, meet in-person, attend additional creative sessions connected with other projects, and develop a third phase of project activity, a 'Book of Responses'.   
We will deliver a further 31-hours of contact time to participants between April and July 2021, during this time participants will focus on formulating their 'Book of Responses', involvement in final script work and the creatives rehearsal process, and finally taking part in public Q&A forums following screenings of the film of Dr Hills' Casebook.   
The Dr Hills' Casebook project has provided connection and support to people during a period of increased anxiety and uncertainty. People who suffered a decline in their mental health due to increased isolation, reduced access to support services and networks and an increase in primary symptoms such as anxiety and depression. We have provided safe spaces for people to connect, socialise, make friends, share experiences, express themselves, grow their confidence, connect to hope, and realise improved wellbeing. In addition to our original objectives, we recognise that being involved in this project during the pandemic has provided support in many practical and social wellbeing related ways. Participants have been able to access other resources provided by Restoration Trust, in many cases connection and support that has reduced the need for further health interventions.        
One of the participants has been keeping a blog during the project.  
--------------- 
Darren France is the Dr Hills' Casebook Coordinator and Producer