The Canal & River Trust will lead partners who are using the natural asset of the Nottingham & Beeston Canal to provide physical activity, art, heritage and food-based activities for local people. It's not just physical activity though. Their programme has supported people's mental wellbeing too.
The Waterways & Wellbeing project in Nottingham has seen around 100 people taking part in paddleboarding and canoeing sessions on the canal running through the city. The sessions, run by waterways and wellbeing charity the Canal & River Trust, have given those taking part the opportunity to enjoy some relaxing time on the water, helping to give their physical and mental health a boost. The sessions, which have been run in four-week blocks, have ended with a coffee and cake in the nearby pub giving those taking part the chance to get to know each other. Genuine friendships have been formed with some organising to meet up away from the sessions to try other activities together.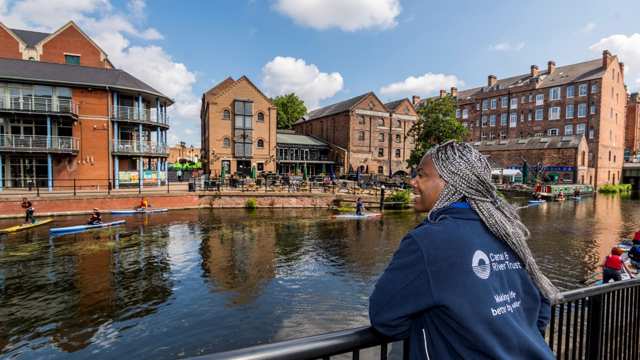 As well as the activities on the water, the project also gives people the opportunity to get involved with things on dry land. Gardening sessions have taken place at the Canalside Heritage Centre in Beeston and Nottingham Photography Hub have run photography sessions – with participants' work recently being displayed in a city centre bar. Local foodbank Himmah are running cookery sessions and bringing people together for communal meals and Notts County Foundation are running regular canal walks and other activities to help people keep fit and active.
Continue the conversation