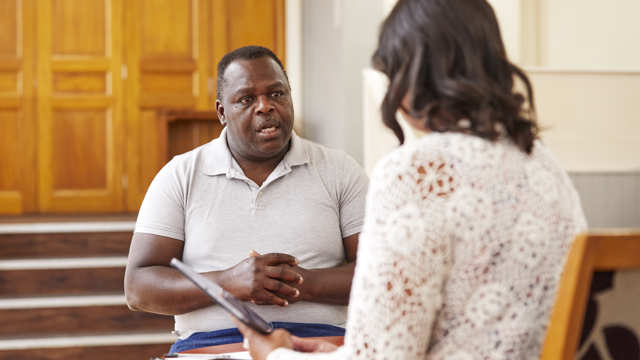 I'm Hanan, one of the Financial Support Link workers for 'Back on Track', a pilot project  to improve the health and financial well-being of people in Lambeth and Southwark. The pilot, also known as Financial Shield, focuses on people who have, or are at risk of developing, both long-term health conditions and financial problems.
Creditors, including local authorities and housing associations, have joined up with the Primary Care Network (PCN) to identify postcodes with concentrations of debt.  Local GP practices can then search their patient lists for individuals with long-term health conditions in these postcodes and offer them appointments with me or a colleague, for advice on their financial problems.
I'm embedded within the social prescribing team and responsible for assessing people's financial and health needs. Once onboarded, I work to maximise income through benefits and advise on any available grants, emergency or discretionary support that may be available. If there are debts outstanding with one of the participating creditors, enforcement action is put on hold for up to 60 days to allow income maximisation work to take place, a respite known as a Breathing Space. After that period, I can help people set up affordable debt repayment plans. If more than one of the creditors is owed money, they have agreed to co-operate through a new 'Joint Debt Recovery Protocol', rather than compete for any available funds.
Social workers and prescribers often tell me that they need financial specialists because there is often a financial problem at the heart of the issues faced by the people they are helping. While they can signpost to financial support groups, people can end up with multiple contact points and waiting lists. What they need is one person in whom they can confide and get help with specific requirements, such as completing a benefit application online or dealing with multiple creditors.
Our social prescribing team has a holistic care approach based on a mutual understanding of the individual's physical and mental health, alongside their social and financial circumstances, all of which contributes to their health and wellbeing.
Back on Track: the challenges
We are only a few months into the pilot and are still learning how to finetune this approach. One of the biggest problems is that money problems arise from all sorts of deeper issues – severe mental health conditions including depression, domestic abuse, drug misuse and disability – that can become so entrenched in people's lives they have forgotten how to function. Many people struggle to follow-up from our initial conversations and many disengage from our service, overwhelmed by other things, before we have finished our work with them.  The skill is to reengage without adding to their stress by chasing them, because it's likely that creditors and bailiffs are also chasing them. Some do come back, sometimes through another route.
It takes time to win people's trust and get all the facts because it can be hard to open up about personal finances. It's proving easier to talk about maximising benefits and much harder to get the full extent of a person's debt.
The other problem we're experiencing is getting people's consent to share information with the participating creditors, which is a barrier to onboarding people. Ultimately, we need to track the impact of the project on debt repayments to evaluate the case for creditor contributions to the cost of social prescribing financial support moving forwards. Without this consent, we won't obtain the evidence we need.
Despite these challenges, it is very rewarding to be helping people solve their financial problems proactively and witness an improvement to their welfare. These case studies are representative of the work we are doing.
Help with a DWP application  
Mike (not his real name) is a full-time carer for his mother who has dementia. When he received a letter from DWP stating that his mother's Disability Living Allowance was being terminated and he needed to apply for Attendance Allowance instead, he became very anxious about the application due to his limited literacy skills and being digitally excluded. His anxiety spiralled to a point where he began contemplating suicide.
He was already receiving medical support for his mental health and his doctor referred him for financial support. I helped him complete the Attendance Allowance application, which was granted; and shared information on how to access the services of Dementia UK and Alzheimer's Society for advice on caring for his mum. Mike said to me afterwards: "You and Dr Warda saved my life."Due to the lockdown, Sharmin (not his real name) lost his job, and he and his wife lost their only income. They speak limited English and struggle with access to services, however, Sharmin mentioned to a nurse how he felt anxious and worthless about his situation and was referred for financial support. I made an application for Universal Credit which did not match their previous income but did cover essential bills. Four months later Sharmin landed a new job and stopped claiming benefits.
Responding to increases in bills
Debbie (not her real name) suffered a physical attack from a colleague who ran her over in his car in their office car park. She tried to return to work after the incident but developed PTSD, feared going out and was bedbound most days with suicidal thoughts. She accumulated arrears and became anxious about opening letters from creditors. Having received the referral for financial support, I applied for Universal Credit and PIP and activated the Breathing Space, but then she disengaged from the scheme. Fortunately, her sister stepped in to help and contacted Citizen's Advice, where she is receiving debt advice again. Her UC application has been approved and PIP is being processed.
Mohamed (not his real name) had a stroke which impaired his memory and critical thinking. His rent previously included all utility bills, however, this arrangement stopped without notification and despite continuing to pay his rent, he received letters demanding outstanding payments for utilities. After a year, he developed depression and was identified by his GP, who then referred him for financial support. I contacted the utility providers on his behalf and applied for schemes to write off the debt.
We aim to help up to 2,000 residents in Lambeth and Southwark by the end of the pilot in October 2022. We also hope to provide evidence that solving the financial problems of individuals with health conditions improves their mental and physical wellbeing, and has a positive impact on debt recovery for local authorities and other creditors.
-----------------------
Hanan Paganini is a Financial Support Link worker for Back on Track.


Continue the conversation