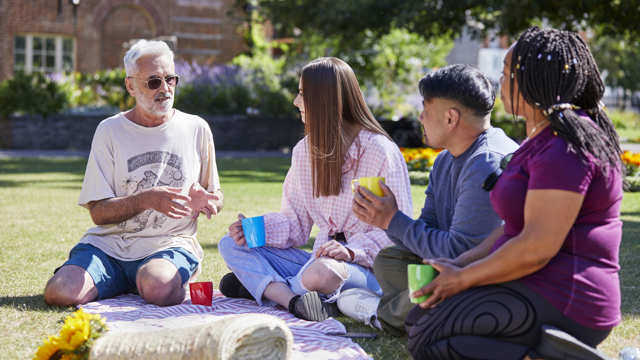 My organisation, Burnley Pendle and Rossendale Council for Voluntary Service (BPRCVS), formed in 1935 and has celebrated volunteer's week for many years.
Volunteers' week in the UK was started in 1984 by Volunteer England and is now coordinated by NCVO (the National Council for Voluntary Organisations).
Every year it provides a marked occasion and opportunity to say a massive thank you to the 1000s of people who give their time (and very often money) to help others who are less fortunate. They can volunteer for larger and better-known organisations such as the NHS or Age UK, but often people see a local gap and set up a small organisation that supports people. That's when they come to an infrastructure organisation, such as mine, to help them as volunteers not only deliver an activity but also take on the responsibility of managing. This is a huge ask and once again something that people take on because they care.
The pandemic has really highlighted the amazing people who selflessly have helped others with everything and anything. From shopping, delivering food parcels, collecting and donating food for the food parcels, ensuring people received essential medication, to dog walking and most importantly being a friendly face and listening ear. The list is endless.
Local, volunteer-led
Some of the stories heard by our volunteers have been upsetting, but we have also had some amusing instances.
Our volunteers have been asked to clean hearing aids, mend glasses and buy whiskey (politely refused despite the elderly gentleman's insistence that we couldn't stop him having a drink). These volunteers were also personally impacted by the COVID pandemic and were dealing with their own worries and concerns. It was crucial that they too received the help and support they needed. Sometimes that was forgotten, as was the need to ensure that volunteers were not out of pocket. Many people who would like to volunteer are excluded because they can't afford to and sometimes a VCF (voluntary community and faith) group don't have the funds to cover expenses.
There are 1000s of these small, volunteer-led organisations who have continued to support their local population in any way they can. They have changed the way they deliver activities where possible, where it wasn't they have taken a short break.
Every person is different, there is not a one size fits all answer. For me, this is why social prescribing works. It looks at every one as an individual and finds the right pathway for that one person which is often a mixture of different interventions/activities. The link worker can then look at the vast array of opportunities available with the VCF group to ensure that each person is able to access something that is local and right for them.
Making a difference
There are many reasons why I wanted to be involved with the National Academy for Social Prescribing, but the main one is that the aim of NASP mirrors my own personal beliefs just as the aims of my organisation BPRCVS does.
It was wonderful and exciting to hear that our North-West team was successful in our application to be the regional lead for NASP. It is equally exciting to be involved in the developing programme and opportunities.
I truly believe in the power of the VCF and volunteering.
I worked in a bank for many years and one day walked out and wondered what I would do. I have volunteered in some shape or form since childhood, and then life overtook (bringing up children and struggling to juggle everything). After some time, I was ready and wanted to change direction and actually do something to help others and make a difference. I began more formal volunteering, which included supporting children and young people and the families of people with a drug and alcohol issue. I met people who inspired me to do more and eventually I was fortunate enough to get paid employment doing something which I loved. I still volunteer.
Volunteering is often a route into paid employment and we have seen here that many of our volunteers are able to move into paid work.
A special role
Without the 1000s of individuals who are care enough to try and help others, where would we be?
In my role working at BPRCVS and now with NASP I meet lots of people who I can honestly say it is a privilege to know, whether that is for a moment or for much longer. They enrich my life and I am honoured and fortunate to know them.
Thank you to every single person who volunteers in any capacity. Some of you may not even know that is what you are doing.
You are all amazing people and there aren't enough words to express thanks. Each one of you makes life a little bit more bearable for someone else and I constantly hear that there is something really special about that feeling of warmth that comes from caring.
For anyone taking the time to read this and you aren't involved in this wonderful world, please do make contact.
------------------------------------------
Christine Blyth is the  CEO of Burnley Pendle and Rossendale Council for Voluntary Service (BPRCVS).