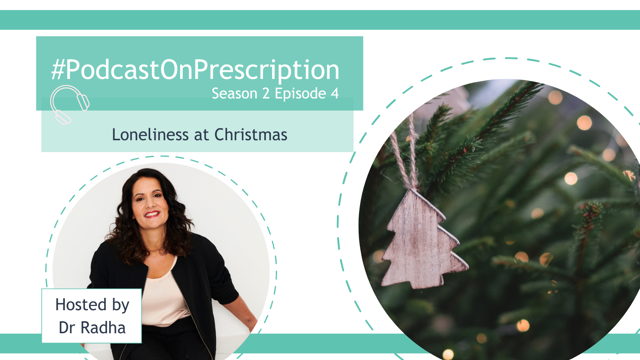 In this episode, Dr. Radha Modgil discusses loneliness with our guests on this Christmas special episode of Podcast on Prescription. 
The holidays can be a happy time for people surrounded by family and friends. For others, it can be a difficult time and one that can exacerbate feelings of loneliness. Tune in to find out about the impact that loneliness can have on our mental and physical health, and how social prescribing can help alleviate these feelings. 
Our first guest, Tracey Crouch, became the country's first Minister for Loneliness in 2018. Tracey, the MP for Chatham and Aylesford, is a mindfulness practitioner and was one of the early members of the cross-party parliamentary mindfulness group. She is an advocate for the wellbeing benefits of nature. 
Our second guest is the National Academy for Social Prescribing's Chief Executive, James Sanderson. James is also Director of the Personalised Care Group at NHS England and NHS Improvement, where he leads a range of programmes that support people to have greater choice and control over their health and wellbeing. 
Dame Esther Rantzen DBE is our third guest. Her career spans several decades in broadcasting, television and radio. Among her many accomplishments, in 2012 she started The Silver Line, a helpline for older people, which is now part of Age UK. 
Finally, Dr. Radha will chat with Ruth and Neil Hannah from Musical Memories. Musical Memories  gives older people the opportunity to sing together and enjoy each other's company, with the aim of combatting social isolation and loneliness.  
Listen now