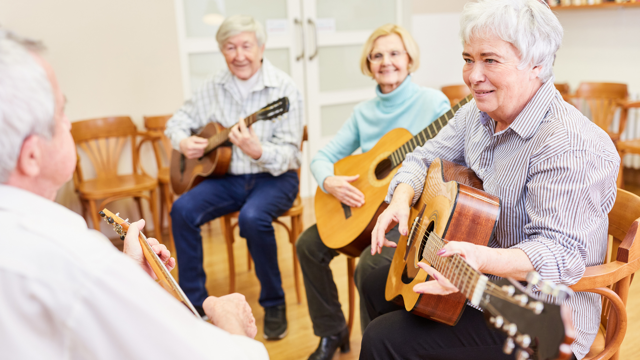 A new guide will show link workers how to use music as part of a social prescription when working with people living with dementia.
Music for Dementia have produced the comprehensive link worker guides (a short and long-version) with our support. The guides explain how link workers can assess music needs and signpost people to music-based activities and services.
While they are primarily written for link workers, they will also provide an insight into social prescribing for people who are assigned a link worker, as well as their carers and family members.
The full-length guide includes a wealth of information, including:
details of the benefits of music for people living with dementia
musical social prescriptions
how to have a conversation about music
how to involve family and friends.
The one-page short guide is a colourful summary of this material, designed in an accessible, quick reference format. It can be shared online or printed off for displaying in GP surgeries and memory clinics.
"Link workers are already doing a fantastic job of supporting people through social prescribing, and we are delighted to have worked with the National Academy for Social Prescribing on producing these guides to support all link workers to feel confident in helping to make music a part of good dementia care through the social prescribing model.

There are so many ways to experience music whether at home or in a community setting and, in helping people with dementia and their carers to access these, link workers will be playing an instrumental role."

"This toolkit contains some really helpful and practical advice for social prescribing link workers, and others, to use. By incorporating music-based activities into how we care for, and support, a person living with dementia, we can really help improve their quality of life."