At least 7,500 people will be connected to nature for their health and wellbeing, thanks to 10 innovative green social prescribing projects across the country. The projects will be funded by cross-partnership Thriving Communities Fund.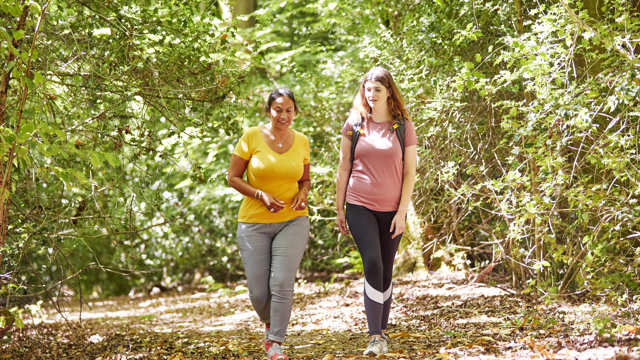 These projects will seek to unlock the potential of green social prescribing for people in their communities, especially those most impacted by COVID-19 and health inequalities, helping them realise health benefits from participating in nature-based activities.
Access to nature and the outdoors can be a lifeline for people during difficult times. Research from the Mental Health Foundation on the mental health impacts of the pandemic showed that going for walks outside was one of our top coping strategies and 45% of us reported being in green spaces had been vital for our mental health.
Social prescribing is the process of connecting an individual with a link worker who will help people to connect with community-based activities, related to their health and wellbeing needs. Green social prescribing links people to nature-based interventions and activities. It includes outdoor exercise, local runs, active travel, care farming, community gardening and food growing projects, conservation volunteering, green gyms, and arts and cultural activities which take place outdoors.
The Thriving Communities Fund seeks to further bring the benefits of social prescribing to over 10,000 people through 37 projects and at least 1,700 activities, to help them recover from the impact of COVID-19.  The Fund supports NASP's objective to advance social prescribing through promotion, collaboration and innovation by forming partnerships and engaging local communities, with the ultimate aim of helping people to be able to live the best life they can. It is led by NASP with the support of Arts Council England, Historic England and Natural England, NHS England and Improvement, Sport England, the Money and Pensions Service, and NHS Charities Together.
A gateway to green
Partners in Plymouth will provide a health and wellbeing programme for new audiences in Central Park, Plymouth. A range of activities including physical activity, outdoor theatre and conservation offerings will support 400 people to get access to nature and the outdoors.
"Many vulnerable people that do not have access nor the disposable income to discover the natural environment around our city, and therefore the park, which is in walking distance, is their potential gateway to a green environment," says the Deputy CEO and Business Development Manager at YMCA Plymouth, a lead partner on the project.
"The open space of Delapre Park, which sits within an urban environment, provides an opportunity for people to come together and be safe together," says Aimee Holmes of the Delapre Abbey Preservation Trust, who are leading a project to bring a nature focused Green Happy Café to Delapre Park in Northampton to promote green social prescribing.
In Dorset, Nature Buddies is a green social prescribing focused project providing community connections. The project will bring together providers to the Nature Buddies networks, train 30 Nature Buddies, and offer 30 nature-inspired arts activities to 150 community groups.
"The pandemic has affected communities, isolating people from family, friends and activities that previously supported them. We know the impact of nature and participation in arts or physical activities on wellbeing has never been so important and that Dorset's natural and cultural landscape can have a large part to play in this."
"The COVID-19 pandemic has highlighted the importance of being outdoors to people's mental and physical health. Thriving Communities Fund projects focusing on green social prescribing will enable more people to be connected to green, outdoors and nature- based activities through social prescribing link workers. We're delighted to see that the funded projects are already making progress to embed green social prescribing in local health care."