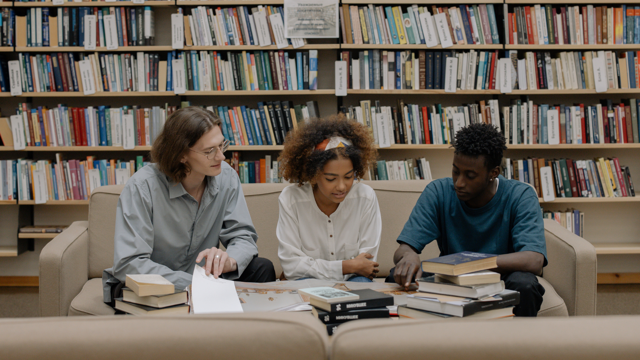 Reading helped us get through the pandemic,  research from our World Book Night campaign shows.. Nearly 1 in 3 people and 1 in 2 young people surveyed  in April 2020 told us they read more in lockdown than ever before. The BBC has reported evidence from libraries of a 63% surge in online library loans of e-books, e-magazines and audiobooks compared to the same time last year.
At The Reading Agency, we work every day to tackle life's big challenges through the proven power of reading. Programmes such as Reading Well Books on Prescription really can make a difference. Developed in partnership with libraries, health experts and people with lived experience, it drives a powerful community-based health offer delivering real benefits.
Books on Prescription
Reading Well is a national books on prescription programme, delivered through public libraries, that helps people to understand and manage their health and wellbeing using quality endorsed reading. Recommended books can be 'prescribed' by GPs, link workers, or any other health, social care or voluntary sector professional, and accessed free of charge in public libraries across England and Wales. The books are also available on the open shelves of the library for anyone to borrow . This innovative reading and health programme is delivered by The Reading Agency in partnership with Libraries Connected, supported with funding from Arts Council England and Welsh Government.
Since its inception in 2013, Reading Well has developed a full complement of endorsing health partners and launched five schemes on the library shelves, including the newly unveiled Reading Well for children booklist supporting the wellbeing of children aged 7-11. Alongside support for children and their caregivers, the programme offers helpful reading on adult and young people's mental health, dementia, and the self-management of long-term conditions such as diabetes and heart disease.
Part of the solution
Programmes like Reading Well are needed as one in four adults in the UK struggle with their mental health each year, and one in eight 5 to 19 year olds have been diagnosed with at least one mental health condition. Mental health problems represent the single largest cause of disability in the UK. The impact of this is far reaching, both for the individuals affected as well as family and friends. Mental health affects every aspect of life: relationships, education, work life and physical health; 30% of all people with a long-term physical health condition have also experienced a mental health problem.
Books and reading are not and can never be the only answer to people's health problems, but they can be part of the solution when delivered through quality assured programmes such as Reading Well,  and available through the safe and accessible community resource of the public library.
Careful selection
Reading Well has reached over 1.2 million people so far, and has created real evidence of patient and practitioner benefit. In a recent survey, 90% of people who borrowed a Reading Well book said that it had been helpful, and 89% of health professionals valued the scheme as a resource that helps them support people outside of consultation time. GP Clare Etheringon said, "I think books can be starting points for things that are difficult to discuss…A GP gets 10 minutes with a patient if you're lucky, and you can't do everything. It's useful to have resources so that, if you run out of time, you can say: 'Go and check this out.'"
Reading Well works because every title meets the highest quality standard of a rigorous book selection process shaped by need, evidence and clinical guidance. It's a process that's endorsed by health professionals, with partners such as the Royal College of GPs, the Royal College of Psychiatrists, Public Health England and NHS England's Improving Access to Psychological Therapies programme involved in selecting books for the scheme. It's also driven by genuine co-production principles. We've worked closely with people with lived experience on book selection as well as the look, feel, design and language of the scheme. We've learned an enormous amount through this process about how to make Reading Well accessible, including the importance of personal stories as a way of guiding readers in.
Reading Well is more than just a booklist – it represents the power of reading to change lives.
 ---------------------------------------
Karen Napier is the CEO of The Reading Agency. Email [email protected] to find out more about how link workers can deliver the scheme.