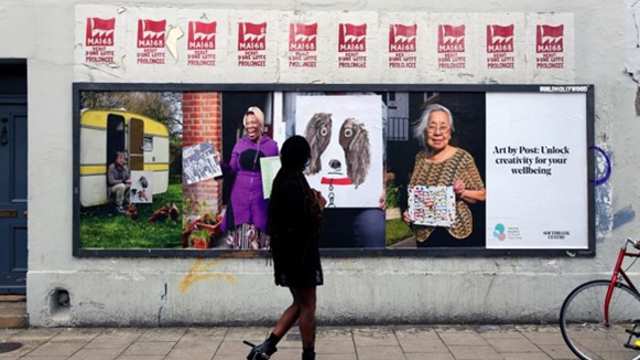 Art by Post: Of Home and Hope launches today at the Southbank Centre in London and online, showcasing the power of art and culture on health and wellbeing. The exhibition, which is supported by the National Academy for Social Prescribing, will then tour nationwide for five months.
Touring sites announced today are: The Mill Arts Centre and Banbury Museum & Gallery in Oxfordshire, Arts Centre Washington in Sunderland, The Beaney House of Art & Knowledge in Canterbury, HOME in Manchester and De Montfort University in Leicester.
In May 2020, Southbank Centre began sending monthly creative booklets to 4,500 people across the country who were at risk from social isolation and digital exclusion during the pandemic. Many participants were supported to complete the booklets by friends, family members, neighbours, healthcare professionals and social prescribing link workers who were vital in referring people to the initiative. Included in the packs were Freepost envelopes, encouraging participants to share their artwork with us. To date, over 40,000 booklets have been sent out and over 600 artworks sent back.
The exhibition, curated by Persilia Caton and endorsed by international health bodies including the World Health Organisation, showcases the power of art on health and wellbeing and celebrates the creativity and resilience of the participants. It draws on many of the themes that featured in the booklets, such as nature, hope, sound and movement.
Art around the country
With participants from Aberdeen to Bangor and Truro to Dover, aged between 18 and 103, the Southbank Centre will be taking Art by Post on tour to bring the work of participants back to their local communities. The tour will be supplemented by a UK-wide poster and bus stop campaign featuring specially-commissioned portrait photography of Art by Post participants.
The National Academy for Social Prescribing has been instrumental in the roll out of Art by Post since formally partnering with the Southbank Centre in 2019. The Academy champions social prescribing by demonstrating the power of the arts, culture, sports, leisure and the natural environment to connect people and communities. Working with its Thriving Communities programme, online masterclasses for community groups will be held across the country, showing how Art by Post can be emulated by community groups elsewhere, and build local momentum for social prescribing.
Art by Post is being supported by 13 strategic partners and a further 156 delivery groups nationwide. Alongside the touring venues, additional strategic partners include arts, health and social care organisations. These are: Age UK Oxfordshire & Camden, artsdepot, Beacon Arts, Dulwich Picture Gallery, NAPA Arts in Care Homes, Nightingale Hammerson, Philharmonia Orchestra, HOME, Platform, Kings College Hospital Trust, Sunderland Culture and The Barn.
"You have brought out a hidden part of me"
Art by Post project participant said: "Since starting Art by Post and putting words down on paper, especially the poems, it seems to be much easier. You have brought out a part of me that has laid hidden for virtually all my life, so for that alone, I thank you."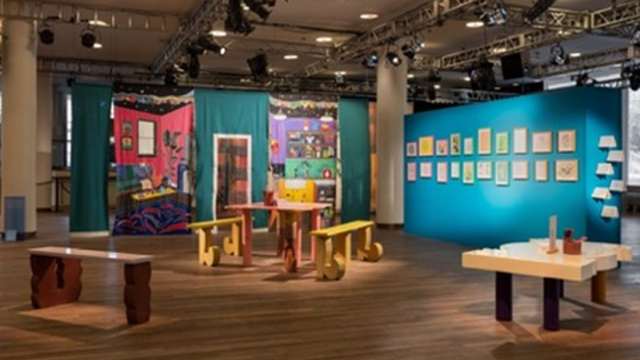 "We are so proud to announce our six partner venues for Art by Post: Of Home and Hope as the exhibition gets underway today at the Southbank Centre. Art by Post's success is down to the participants who have given so generously to the project over the past 18 months and we are delighted to be able to showcase so much of their work in this one-of-a-kind exhibition. Art by Post is demonstrating the transformative power of art for health and wellbeing and, alongside the National Academy for Social Prescribing and over 160 partners, we will continue to make the case for enhanced community access and funding to it."
"Art can be powerful and meaningful for many, whether it's taking part in an activity, learning something new or going to an exhibition. Art by Post engaged people in their homes, providing a way to feel connected to others. Social prescribing link workers can connect people to projects like this to support them alongside wider health plans. We're delighted to be working with the Southbank Centre and our touring venues on this inspiring and engaging exhibit, demonstrating the power of art and enabling more people and communities to connect to art for their health and wellbeing around the country."
"We've invested in the National Academy for Social Prescribing since its launch, so it's exciting to see how its work in partnership with the Southbank Centre is helping people across the country to lead happier, healthier lives by unlocking their own creativity."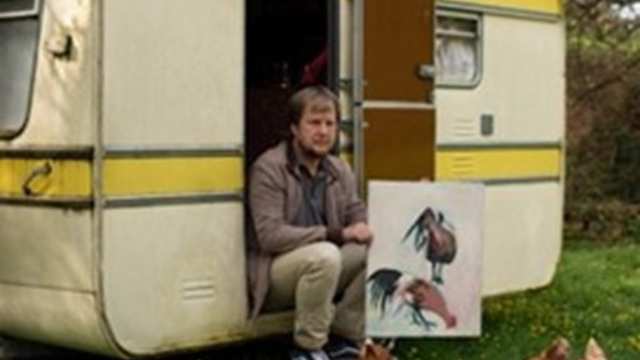 From its beginnings at the 1951 Festival of Britain – at the time seen as a tonic for the nation's wellbeing – through to the present day, the Southbank Centre has long been an advocate of the role of the arts and culture in improving the health and wellbeing of individuals and communities.
Art by Post: Of Home and Hope is open now at the Southbank Centre. Admission is free. Please visit their website for more information.