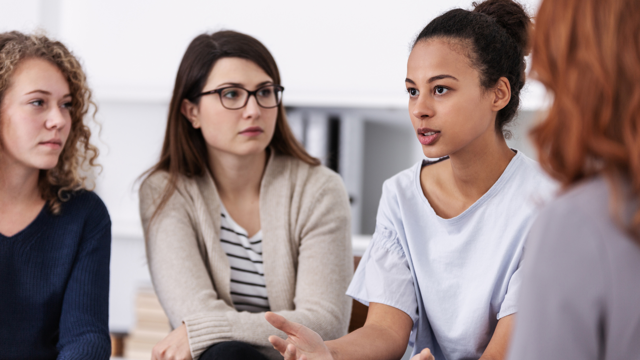 Victorious Women of Valiant Workshop is a three-week series of four-hour sessions designed to help women overcome the trauma of domestic abuse (DA) and reduce the mental health impact this may have caused. 
As a DA survivor from an 18-year marriage, I have identified key areas that helped me to recover from the trauma of the abuse based on my own lived experience. I wanted to use what I had learned and the skills I had developed to help others. 
One of the areas that helps is sharing your story in a safe environment with others who have gone through the same experience. Research has proven that story telling of negative experiences can help towards the healing process and reduce negative mental health impacts. I start the programme by sharing my story of surviving DA. This opens the platform for others to feel free to share. 
The idea for the workshop came about through my experience of recovery. I went through spiritual therapy and had to deal with areas such as forgiveness and letting go of negative words. I then wanted to help other women experience the same freedom of mind and better health that I now have. I no longer suffer from depression, high blood pressure etc. I found that when I started to talk openly about my experience I was also letting go of the pain.
The programme was piloted in a Sheffield women's refuge where a group of eight women, including staff members, participated. The feedback was very positive with one participant stating, "When you shared your story it helped me to open up with my counsellor which I couldn't before". [h2] Abuse doesn't discriminate
I am presently working on running a workshop in the Shiregreen area of Sheffield with support from Shiregreen Tenants and Residents Association committee and Sheffield SOAR, a community regeneration charity. I have been promoting it through GP surgeries, social workers and support workers.
I have obtained CPD accreditation for the workshop and each woman will receive a CPD certificate once she has completed the programme. Because DA doesn't discriminate, the programme is open to all women who have experienced it, regardless of race, gender identity, religion and age.
I am presently working on a follow-on 'Telling my Story' workshop where the focus will be on training women survivors in public speaking/confidence building to enable them to share their story at different workshops. The initial workshop will be run at various venues within Sheffield and South Yorkshire. I am also hoping to be able to train other women survivors to run the programme in different areas. This idea of sharing your story comes back to my early experiences and how powerful that was for me.
It really all comes down to building relationships. Relationships with ourselves and with each other. Women of Valiant empowers women to take control and have courage after experiencing domestic abuse.
 -------------------------
Janet Walker is the founder of Victorious Women of Valiant.
Continue the conversation